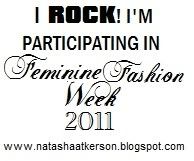 Today is the first day of Natasha's Feminine Fashion week!! Here is my outfit:
My outfit today:
Hat
- Claire's (My grandmother bought it for me yesterday!)
White Shirt
- hand me down, brand is Talbots Kids
Blue shirt
-hand me down, brand is "eye shadow" which is I think is from Belk's
jeans
(sorry about the hole, I tripped one day and got it on
my fav jeans! I can't believe people actually think that holey
jeans look cute, UGH!) brand is Gap, also a gift from my Grandma
Converse Shoes
- one of my favorite 2010 Christmas gifts!
another pic of the hat, I LOVE hats! Wish I had more :D
And a shoot of my shoes! :D
Love in Christ,
Anna Katherine